Zapatos:
Today I will be going off on a bit of a tangent and start to talk about one of my favorite things in flamenco....the clothes :)
So, lately i have been looking for new shoes, and like any dance shoe, the cheapest i can find are around 200 dollars. To me the prices are outrageously high, yet the shoe is worth its price. Sometimes i get really frustrated how on top of paying for classes the shoes and costumes are really expensive and hard to purchase seeing that most of the merchandise comes from Spain. I'm sure people who play sports go through the same thing when they have to purchase a lot of equipment, however its literally the price we pay to do something we love. Nonetheless, i have recently been trying to save up the money to buy a pair of the precious, hand crafted, heels from Spain. Each shoe has a names, there are fandangos, farrucas, bulerias, alegrias, guajiras, etc, with each shoe having it's individual purpose and style. Here are a few of the fanciest once I have found:
These are all female flamenco shoes and the men wear boots such as these:
Unfortunately for the guys, their shoes are usually a lot more simple. Personally i like when the shoes colors stands out, for example i saw one dancer who wore all black and then bright white flamenco shoes. :)
Another interesting fact about the shoes (and probably the most important) is that all flamenco shoes have nails on the toe and heel. So picture a tap shoes, except both taps are replaces by nails. This is what gives the shoes their sonido, the sound.
Well, i hope you learned something about these fun shoes that have been made for hundreds of years, without them there is no flamenco. The next best thing about flamenco fashion are the dresses, which i will be sharing some info on with all of you in my next post :)
Los bestidos <3
Like the shoes,there is a different outfit and accessory that has it's specific dance. However, a flamenco dress is not just a costume, its part of the dance. A flamenquera's skirt is meant to compliment her graceful hand movements and flow easily with every movement she makes. Often times dancers will toss their skirts around or let them fly out during a turn as an essential part of their dance. Without a doubt, flamenco clothing has been greatly modernized over the years and props that are now crucial to the dance were non-existent when dance first began to evolve. For instance, castanets (which i will elaborate on in my next post) were added much later as an instrument to enhance snapping.
The origins of the flamenco dress were inspired by the dresses worn by Andalusian 19th century, Spanish women who accompanied livestock workers to livestock fairs in Seville, Spain. The dresses were heavy, always worn with petty coats, and made of cotton. These women were peasants and therefore the dresses were simple, but they were form-fitting and had vibrant colors. They began as simple, but as the years went on became more decorated with fun, eccentric fabrics, lace, ruffles, and cuts all became more interesting to further enhance the natural beauty of a female dancer's body. However, despite the many accents and changes added to flamenco clothing, a woman's uniform for flamenco has traditionally been a dress or skirt and shirt that is figure-fitting to her torso and flows out at the hips. Her hair is commonly worn in a tight bun that is accented by combs or flowers. Some of the revolutionary changes made to flamenco dresses are that they became shorter in the 60's, less heavy, in the 80's printed tapestries became popular, and today a simple dark dress is common and creates a dark silhouette.
Also, like i said before each individual dance has it's outfit and as dances were created, a new look was used to define the dance. I'll start with the mother of all flamenco dances: Sevillanas. Sevillanas has been around since the birth of flamenco and is performed at festivals. It is danced in four parts, and if you know flamenco you know how to dance Sevillanas. These dresses are extremely bright and vibrant and are also very ruffly.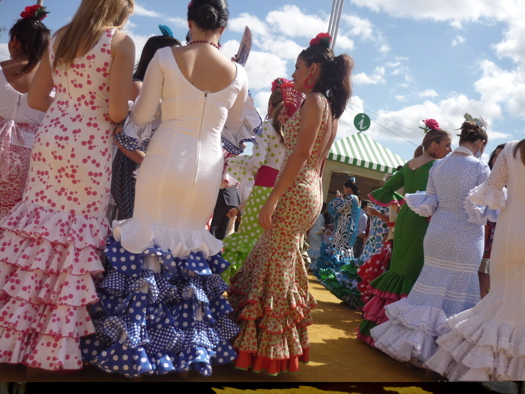 For certain dances such as Guajira, large, wide leg movements are made and therefore a loose fitting skirt like the one below is needed.


The queen of all flamenco dresses is the "bata de cola", a long tailed dress. The train of the dress is so long and heavy that it can takes months to simply learn to walk and turn in the dress without tripping.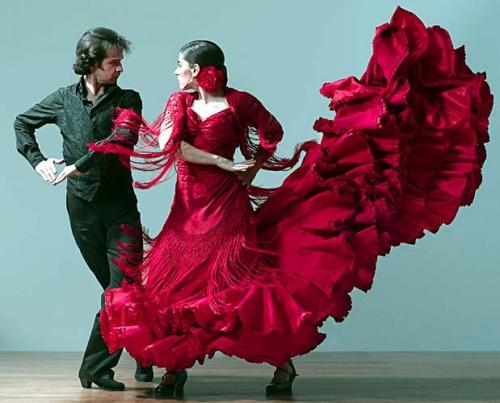 As you looked through these photos you may have noticed a pattern: all of the dresses include ruffles and or polka dots. Both design elements are a staple in flamenco style. The dresses above are only a few examples of a flamenco wardrobe. The truth is, with time so many new ideas have been incorporated in to flamenco clothing that it is impossible to say exactly what can and can't be worn in flamenco. The fact is, changes are still being made and every year, like in any form of fashion, different things are "in" and others are "out". However if you can dance the dance, and you've got the look your bound to look great :)
El Traje Corto:
One very special outfit i forgot to mention in my last post is the Traje Corto. Like I mentioned in my previous post, Sevillana dresses were traditionally worn to the Spanish ferias by women. However, what did the men wear??? Well, the most common clothing worn by the men are traje cortos which are elegant suits designed in a very specific way. These suits consist of pants which are usually black, tight, and tapered at the bottom. The pants are worn with a short, long sleeved, decorated jacket. And to top it off, a black, wide rimmed sombrero is usually worn. The outfit was traditionally worn in Andalus, Spain, for riding horses, which explains the tight pants. However, the style became incorporated in to flamenco and a very common uniform for flamenqueros. In fact, the traje corto greatly resembles the suits worn by bullfighters, however a lot less decorated and busy. Men wore these suits for centuries, but it wasn't until flamenco queen, Carmen Amaya, came on the scene that women began to wear traje cortos. The suit is useful for both men and women, especially in dances such Bulerias where jumping high in to the air is and important aspect of the dance and impossible to do in a skirt. So, keep in mind that this suit is still worn today and transformed from a traditional horse-back riding suit to an outfit worn by a dancer.

Yes, even Barbie can dress like a flamenco dancer....